by Gerald Braude
In this newsletter:
An Informed Life Radio Notes and Links
Flu Season Means DOH Vaccine Promotion Season
ICWA Activist Fights Tennis Tournament Vax Requirement
One Lone Washington Vote against Removing Military COVID-19 Shot Mandates
January 9 Capitol Rally Announcement
Guest: Denise Michelle
Guest: Caleb Howard
Flu Season Means DOH Vaccine Promotion Season
It's that time of the year for the Washington Department of Health (DOH) to put out its alarm about the flu. Their release last week had the following subheading:
As hospitalizations and deaths from flu rise, DOH strongly encourages everyone eligible to get vaccinated

Flu cases very high in Washington: DOH urges everyone take precautions | Washington State Department of Health
The article further states:
"In addition to the flu, other respiratory illnesses such as COVID-19 and RSV are making both children and adults sick and overloading our hospitals."
A Washington Board of Health member then takes this opportunity to promote vaccines:
"It's not too late to get your flu shot, so we urge everyone aged six months and older to get vaccinated as soon as possible," said Umair A. Shah, MD, Secretary of Health. "Flu is spreading rapidly through our state and getting your flu shot now helps to protect us all, especially as we plan to gather for holidays and events."
The flu shots do not prevent mucosal infection or transmission, and their efficacy is low to negative (https://www.cdc.gov/flu/vaccines-work/effectiveness-studies.htm)
Dr. Shah's biography shows that it is no surprise that he is promoting vaccinations for combatting the flu.

His bio mentions that he has completed a global health policy internship at the World Health Organization (WHO) headquarters in Switzerland. An October 3, 2022 article by Dr. Joseph Mercola emphasizes Bill Gates's vaccination agenda when controlling the WHO.
Health Officials Admit — Bill Gates Used His Wealth and Influence to Call the Shots During Pandemic • Children's Health Defense (childrenshealthdefense.org)
The following excerpt from the above linked article reflects this:
Gates "owns" the WHO

Many have pointed out that Gates, through his billions in donations to the WHO, has significant leverage over the WHO's decisions. In September 2021, Astrid Stuckelberger, Ph.D., a WHO insider, blew the whistle on Gates, explaining how the WHO is, in fact, controlled by Gates, who in turn dictates policy for his own personal financial benefit.

Of the four organizations Politico focuses on, GAVI, the Vaccine Alliance, may be the most important. GAVI, founded by Gates, is headquartered in Switzerland.
The following excerpt from the GAVI website shows Gates's vaccination agenda:
VACCINE MARKET SHAPING

The Gates Foundation plays both a technical and financial role in the Vaccine Alliance's efforts to shape vaccine markets. It helps to gather data to inform our decision making and provides financial support for market investments.

The Foundation invests in activities ranging from vaccine discovery through development to delivery, and encourages product innovation and new entrants into the market.
A November 7, 2022 article by Dr. Joseph Mercola shows that the current virus fearmongering to sell more vaccines is sweeping across the United States.
Mainstream Media Warns of 'Tripledemic' This Winter — What's Really Behind the Hype? • Children's Health Defense (childrenshealthdefense.org)
The overview of the article reflects this:
While influenza, RSV and COVID-19 can be problematic and dangerous for certain high-risk individuals, the overall risks associated with them are negligible for most — but "fear sells" and for Big Pharma, it sells more vaccines.
What else can you do to reduce risk of the flu and severe outcomes? Dr. Mercola makes the following recommendations:
The DOH release also recommends the COVID-19 booster:
Individuals can help keep themselves, their family, and their community healthy by getting a flu vaccine and COVID-19 booster and taking other measures to prevent getting sick or spreading illness to others.
This is despite the fact that other nations are pulling back from recommending boosters, or any of the shots, at least for certain age groups, and some top medical experts are calling for the shots to be pulled from the market entirely. A recent published paper by Stephanie Seneff, Ph.D. as well as Drs. Peter McCullough, Greg Nigh, and Anthony Kyriakopoulos shows that the COVID-19 shots suppress innate immune systems.
How COVID Shots Harm the Immune System and May Cause Neurological Disease • Children's Health Defense (childrenshealthdefense.org)
The December 1, 2022 article by Dr. Joseph Mercola makes the following two summary statements about the paper.
To circle back to where we began, it seems the reason so many jabbed individuals are now contracting COVID-19 and other infections, and are dying from them, is because Type 1 interferon is suppressed.
That suppresses your immune function, making you more prone to contracting infections.
The published paper is at the following link:
Innate immune suppression by SARS-CoV-2 mRNA vaccinations: The role of G-quadruplexes, exosomes, and MicroRNAs – PMC (nih.gov)
The following excerpt in the abstract section clearly states the paper's premise:
In this paper, we present evidence that vaccination induces a profound impairment in type I interferon signaling, which has diverse adverse consequences to human health.
Baby Dies of Blood Clots After Spokane Hospital Performs Vaccinated Blood Transfusion against Parents' Wishes
On the December 21 episode of Good Morning CHD, host Aimee Villella McBride interviewed the parents of Baby Alex. Cornelia and Ron shared their story of how Baby Alex died of blood clots after a blood transfusion at Sacred Heart Children's Hospital in Spokane, Washington.
Vaccinated Blood Transfusion Killed My Baby | Childrens Health Defense
The parents of Baby Alex had requested and procured a pure blood transmission. But the hospital gave a COVID-19 vaccine-tainted blood transfusion, instead.
HOSPITAL HOMICIDE: Newborn baby DIES from "huge blood clots" following pre-surgery transfusion of covid vaccine-tainted blood (newstarget.com)
Baby Dies of Blood Clots After Hospital Performs Vaxxed Blood Transfusion Against Parents' Wishes – News Punch
Because of their experience with a perfectly-healthy family friend who died of a heart attack shortly after receiving a COVID-19 shot, the parents wanted to make sure baby Alex received pure unvaccinated blood for his transfusion. So they found a match through a member at their church and paid to have the proper protocol in place for Alex to receive that donor's unvaccinated blood.
When it came time for the hospital to initiate the transfusion, the doctors and nurses claimed they were unable to locate the unvaccinated donor's blood that had been carefully procured by Alex's parents. So without the parents consent, they took blood from the general stockpile at the hospital.
The doctors and nurses assured the parents that Alex would be fine and told them babies rarely, if ever, get blood clots. Shortly after the transfusion, Alex developed a blood clot that ran from his knee all the way up to his heart. Twelve days later, baby Alex passed away as a result of the large blood clot.
ICWA Activist Fights Tennis Tournament Vax Requirement
The BNP Paribas Open is the largest two-week tennis tournament outside the four Grand Slams. Informed Choice Washington activist Bob Runnells met with other family members under the blazing Palm Springs sun to attend the tournament from 2015 through 2019.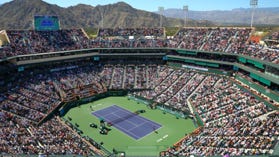 They were all set to meet again for the March 2020 event at Indian Wells Tennis Garden. Then came the COVID-19 lockdown in California. They held out hope to the last minute that, because the tournament was being held outdoors, it would not be canceled. It got canceled, anyway.
The BNP Paribas Open returned in 2021 for the first-ever fall edition of Tennis Paradise. Bob planned on re-using the funds. But they had a vaccine passport requirement which read:
At this time, in order to enter the Indian Wells Tennis Garden the BNP Paribas Open requires all attendees to show valid proof of full vaccination against COVID-19. To keep all patrons on site as safe as possible, no exceptions to the vaccination policy will be allowed. All tournament volunteers, staff, sponsors, media, and vendors will be fully vaccinated in accordance with this policy.
Bob complained, and they refunded his money. His complaining post on their Facebook page was deleted.
Verification of vaccination was still required for the March 2022 event. Bob had recently recovered from COVID-19, but the tournament staff would not consider natural immunity.
Bob assumed that by now, December of 2022, since most all other large-event venues had dropped a proof-of-vaccination requirement, he would be allowed to return Indian Wells. The website didn't say anything about a COVID shot requirement until he started to reserve tickets. Then, a big disclaimer popped up saying that all patrons had to show proof of "full vaccination." Bob says the website was not any more specific: Did they mean just the primary series, which would have certainly waned by tournament time? Or did they mean all recommended boosters, which by March of 2023 might be eight total shots to compensate for the waning efficacy?
"I was fit to be tied, as they say," Bob says. "So, on December 12th, 2022, my pissed-off activist fingers typed in the ticket site chat window, "Is vaccine verification still required?" Below is the chat (IW stands for Indian Wells).
IW: "Yes, the policy is still in place."

Bob: "I'm very surprised. it seems the Indian Wells tennis tournament is the last venue to require this."

IW: [nothing]

Bob: "The vaccination policy is outdated and quite useless. Do the organizers know that the shots wane quickly and don't prevent infection or transmission? The vaccine passport makes it feel an awful lot like Germany in the late 1930s."

IW: "Would you like me to appeal your request?"

Bob: Yes
Having had similar dialogs with other organizations, Bob assumed nothing would happen. But three days later, he received a general email from the organizers. They didn't contact Bob individually with the results of the appeal, but it's possible his complaint had something to do with the policy change. The updated website reads as follows:
After consultation with health and industry experts, including Dr. David Agus, Professor of Medicine and Biomedical Engineering at the University of Southern California, the 2023 BNP Paribas Open will not require proof of COVID-19 vaccination for fans attending the event at the Indian Wells Tennis Garden. We will continue to closely monitor the situation leading up to the tournament and reevaluate any policies as necessary. The policy on indoor dining will also be separately assessed closer to the event.
One Lone Washington Vote against Removing Military COVID-19 Shot Mandates
This past week, congress passed and President Biden signed the 2023 National Defense Authorization Act (NDAA). The act rescinds the COVID-19 shot mandates for the military.
Biden Signs the NDAA, Officially Voiding Military COVID-19 Vaccine Mandate (townhall.com)
Wisconsin Senator Ron Johnson and Texas Senator Ted Cruz tried tying an amendment to the act that would reinstate, with back pay, service members discharged for refusing to take the COVID-19 shots. But their move got blocked. Both Washington senators Maria Cantwell and Patty Murray voted for the bill.
U.S. Senate: U.S. Senate Roll Call Votes 117th Congress – 2nd Session
All ten Washington House of Representatives voted for the bill except for Pramila Jayapal, a Democrat representing the seventh district.
Office of the Clerk, U.S. House of Representatives – Vote Details
Jayapal was first elected to the United States House of Representatives in 2016. Before that, she served in the Washington state senate during 2015 and 2016.
Bioguide Search (congress.gov)
January 9 Capitol Rally Announcement
Washington State's legislature convenes its session on Monday, January 9, and Informed Choice Washington wants you to join us at the Capitol for our "Restore Trust in Public Health" rally!
We are making arrangements to gather on the great steps, as well as deliver Turtles All the Way Down books to legislators.
Action to take now: We need YOU to make a brief appointment with each of your three legislators (look them up HERE) for that day. We'll give you the books, cover letters, and 1-page executive summary, addressed to your lawmaker and ready for you to drop off. You can let them know that the book will provide insight into vaccine products—their capabilities, limitations, and risks–and help them understand why more people are researching these details, since the messaging we hear doesn't match the products. Trust in public health has been eroded, and the book helps explain why.
We need many of you to join us in order to be heard above the lobbyists lined up outside their doors, so plan to bring your kids and friends!